On January 30, our Toscanello '10 got "tweet-reviewed" by popular wine-expert twitterer, Eric @TweSommelier (33K+ followers). Eric decants new wines "live" on Twitter, posting his impressions as he goes.
Reviewing our Toscanello '10, Eric sent out these tweets plus a photo he took prior to opening. He gave the wine a warmly positive review, which of course we appreciated! Here's what Eric tweeted: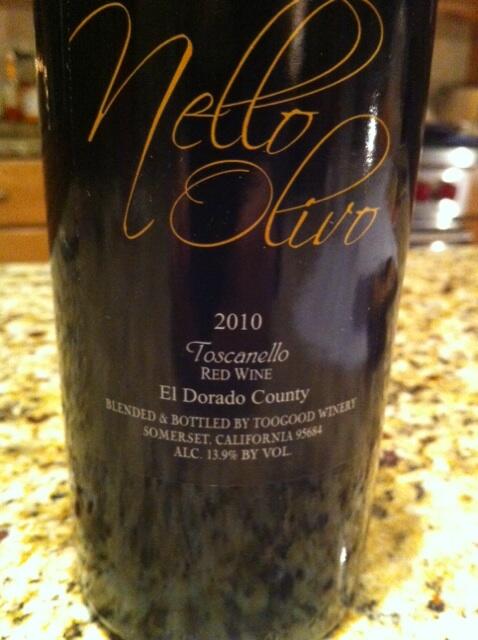 Tweet 1
I'm decanting a special red wine this evening.
Tweet 2
It's time to get a wine glass to do tonight's "live" tasting.
Tweet 3
Tonight.. I've opened a 2010 Toscanello Nello Olivo Super Tuscan style red #wine from California.
Tweet 4
This 2010 Toscanello Nello Olivo has beautiful color, aromas and character. You smile when you swirl the glass.
Tweet 5
An impressive #wine with lush rich flavors of dark cherries, black raspberries, fresh sliced vanilla bean and red tea.
Tweet 6
This 2010 Toscanello Nello Olivo has a full body, great balance, acidity, and a long finish packed with delicious fruit.
Tweet 7
Knew I had a gem. Finger Lakes competition in New York, Nello Olivo awarded double gold for it's 2010 Toscanello. bit.ly/1iRCaBJ (<--- Eric included this link to an article, also posted on our website here.)
See all Eric's tweets here Twitter here on Twitter: @TweSommelier
TASTING ROOM
643 Bee Street, Placerville
530-409-5603

Hours
Monday: closed
Tuesday: 11-5
Wednesday: 11-5
Thursday: 11-5
Friday: 11-7
Saturday: 11-7
Sunday: 11-7
We're the closest winery to Hwy 50, at the "corner of" Hwys 50 and 49. Start your wine tour here. We have winery maps!

Favorite Winery
Favorite Wine Bar
Favorite Best Kept Secret
Favorite Business Person -
Nello Olivo